及

jí and; to reach; up to

Made up of [

又

yòu

also; in addition; and radical 29]
Note
Represents a hand grasping a person
Related characters
Using

又

yòu
:
对

duì (right)
发

fā (to send out)
发

fà (hair)
反

fǎn (contrary)
鸡

jī (fowl)
难

nán (difficult)
取

qǔ (to take)
圣

shèng (holy)
树

shù (tree)
报

bào (to announce)
欢

huān (merry)
友

yǒu (friend)
支

zhī (to support)
受

shòu (to receive)
艰

jiān (difficult)
Sounds same
吉

jí (lucky)
Different tone
机

jī (starve)
鸡

jī (fowl)
机

jī (machine)
几

jǐ (how many)
己

jǐ (self)
际

jì (border)
既

jì (already)
季

jì (season)
彐

jì (snout)
纪

jì (order)
记

jì (to record)
技

jì (skill)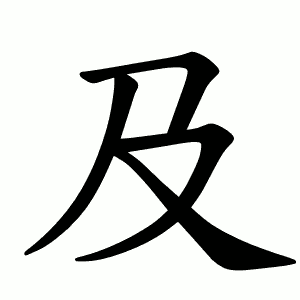 Stroke order for character 及, kindly provided under
Wikimedia creative commons license

➚
Proverbs
爱屋及乌
ài wū jí wū
Totally in love
城门失火,殃及池鱼
chéng mén shī huó, yāng jí chí yú
A drastic action may unintentionally affect other people. Show consideration for all
Giant Panda
The emblematic
Giant Panda
is restricted to remote mountainous terrain in central
Sichuan
;
Shanxi
and
Shaanxi
provinces. They are thinly spread over large areas and so unlikely to be seen in the wild. They slowly digest through 50 pounds
[23 kgs]
of
bamboo
each day. China now leases out pandas to foreign zoos for a cool $1 million a year.
Read More
Tue 7
th
Mar
Any recent visitor to China will have come away astonished by the pace of change. Huge, new buildings pop-up everywhere. The government has a strategy of planned construction of whole new urban centers. While the Special Economic Zones (SEZ) of Deng Xiaoping's era have prospered there is now more than example of how this strategy has failed to deliver. Ordos has been widely featured as a modern ghost town because a local boom from coal mining did not take place. Other developments within Tianjin, Kunming cities and at Yingkou, Liaoning have also failed to find take-up by companies. The government strategy seems to be moving from designating new cities to develop to following industrial development - only putting new urban cities where there is a demonstrable need for them.
Read full story...

Chinasage is a new web resource, started in 2012, pages will be added, enhanced and re-formatted regularly. Please check back soon for updated information about China.
We would be most grateful if you have any comments or suggestions to help improve this page. Our contact page is also available if you have a longer comment. Just type in a quick remark here:
Citation information: Chinasage, 'Chinese character jí 及 and', , Web, http://www.chinasage.info/chars/fch_ji_and.htm.
Copyright © Chinasage 2012 to 2017