心

xīn heart
Note
A simplified picture of a heart
Number of strokes
4
Radical
Index 61 used in:
德

dé (virtue)
;
恶

è (evil)
;
您

nín (you (polite))
;
想

xiǎng (to think)
;
愿

yuàn (to hope)
;
意

yì (idea)
;
思

sī (to think)
;
聪

cōng (quick at hearing)
;
念

niàn (to read)
;
怎

dìng (how)
Sounds same
新

xīn (new)
辛

xīn (hard)
忄

xīn (heart)
Full character form of this simplified radical:
忄

xīn
Pronunciation
Sound file kindly provided by
shtooka.net

➚
under a Creative Commons Attribution Share Alike License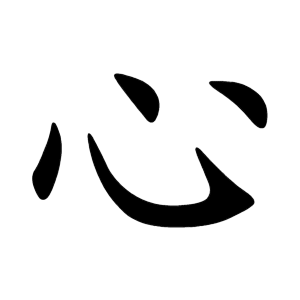 Stroke order for character 心, kindly provided under
Wikimedia creative commons license

➚
Proverbs
不到黄河不死心
bù dào Huáng hé bù sǐ xīn
Keep going until you hit an insurmountable obstacle
口是心非
kǒu shì xīn fēi
To say the opposite of what you really think
狼心狗肺
láng xīn gǒu fèi
Ungrateful and unscrupulous
力不从心
lì bù cóng xīn
Falling short of ambition
利欲熏心
lì yù xūn xīn
To be obsessed with the desire of profit at the expense of happiness
没做亏心事,不怕鬼叫门
méi zuò kuī xīn shì, bù pà guǐ jiào mén
If you have done nothing wrong, there is no worry over retribution
Also
心
xīn heart
Tue 7
th
Mar
Any recent visitor to China will have come away astonished by the pace of change. Huge, new buildings pop-up everywhere. The government has a strategy of planned construction of whole new urban centers. While the Special Economic Zones (SEZ) of Deng Xiaoping's era have prospered there is now more than example of how this strategy has failed to deliver. Ordos has been widely featured as a modern ghost town because a local boom from coal mining did not take place. Other developments within Tianjin, Kunming cities and at Yingkou, Liaoning have also failed to find take-up by companies. The government strategy seems to be moving from designating new cities to develop to following industrial development - only putting new urban cities where there is a demonstrable need for them.
Read full story...
Writing characters
The art of calligraphy is still widely appreciated in China. Fine historic pieces by the great masters continue to achieve high prices at auction. To appreciate Chinese writing it is important to know how the characters are made with the brush. Our page on brush strokes lets you learn how to write in Chinese calligraphy.
Read More

Chinasage is a new web resource, started in 2012, pages will be added, enhanced and re-formatted regularly. Please check back soon for updated information about China.
We would be most grateful if you have any comments or suggestions to help improve this page. Our contact page is also available if you have a longer comment. Just type in a quick remark here:
Citation information: Chinasage, 'Chinese character xīn 心 heart', , Web, http://www.chinasage.info/chars/fch_xin_heart.htm.
Copyright © Chinasage 2012 to 2017