止

zhǐ to stop; to prohibit; until; footprint
Note
Pictogram of a stationary foot and hence 'to stop'
Number of strokes
4
Radical
Index 77 used in:
步

bù (a step)
;
武

wǔ (martial)
;
正

zhèng (correct)
;
足

zú (foot)
;
此

cǐ (this)
;
齿

chǐ (tooth)
;
定

dìng (to set)
Sounds same
纸

zhǐ (paper)
夂

zhǐ (walk slowly)
Different tone
支

zhī (prop up)
只

zhī (one)
之

zhī (him)
知

zhī (to know)
支

zhī (to support)
枝

zhī (branch)
直

zhí (straight)
值

zhí (value)
植

zhí (to plant)
志

zhì (aspiration)
至

zhì (to arrive)
治

zhì (to rule)
致

zhì (to send)
置

zhì (to install)
Pronunciation
Sound file kindly provided by
shtooka.net

➚
under a Creative Commons Attribution Share Alike License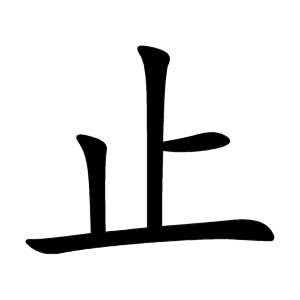 Stroke order for character 止, kindly provided under
Wikimedia creative commons license

➚
Proverbs
树欲静而风不止
shù yù jìng ěr fēng bù zhǐ
In spite of a wish for peace, trouble is brewing
望梅止渴
wàng méi zhǐ kě
Vain hope for something unattainable
学无止境
xué wú zhǐ jìng
Knowledge is infinite
饮鸠止渴
yǐn jiū zhǐ kě
To take reckless action regardless of the consequences
Tue 7
th
Mar
Any recent visitor to China will have come away astonished by the pace of change. Huge, new buildings pop-up everywhere. The government has a strategy of planned construction of whole new urban centers. While the Special Economic Zones (SEZ) of Deng Xiaoping's era have prospered there is now more than example of how this strategy has failed to deliver. Ordos has been widely featured as a modern ghost town because a local boom from coal mining did not take place. Other developments within Tianjin, Kunming cities and at Yingkou, Liaoning have also failed to find take-up by companies. The government strategy seems to be moving from designating new cities to develop to following industrial development - only putting new urban cities where there is a demonstrable need for them.
Read full story...

Chinasage is a new web resource, started in 2012, pages will be added, enhanced and re-formatted regularly. Please check back soon for updated information about China.
We would be most grateful if you have any comments or suggestions to help improve this page. Our contact page is also available if you have a longer comment. Just type in a quick remark here:
Citation information: Chinasage, 'Chinese character zhǐ 止 to stop', , Web, http://www.chinasage.info/chars/fch_zhi_to_stop.htm.
Copyright © Chinasage 2012 to 2017