止

zhǐ to stop; to prohibit; until; footprint
Note
Pictogram of a stationary foot and hence 'to stop'
Number of strokes
4
Radical
Index 77 used in:
步

bù (a step)
;
武

wǔ (martial)
;
正

zhèng (correct)
;
足

zú (foot)
;
此

cǐ (this)
;
齿

chǐ (tooth)
;
定

dìng (to set)
Sounds same
纸

zhǐ (paper)
夂

zhǐ (walk slowly)
Different tone
支

zhī (prop up)
只

zhī (one)
之

zhī (him)
知

zhī (to know)
支

zhī (to support)
枝

zhī (branch)
直

zhí (straight)
值

zhí (value)
植

zhí (to plant)
志

zhì (aspiration)
至

zhì (to arrive)
治

zhì (to rule)
致

zhì (to send)
置

zhì (to install)
Pronunciation
Sound file kindly provided by
shtooka.net

➚
under a Creative Commons Attribution Share Alike License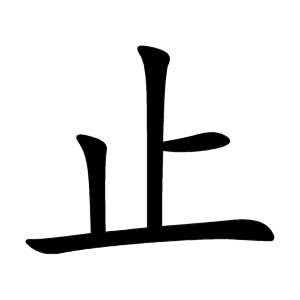 Stroke order for character 止, kindly provided under
Wikimedia creative commons license

➚
Proverbs
树欲静而风不止
shù yù jìng ěr fēng bù zhǐ
In spite of a wish for peace, trouble is brewing
望梅止渴
wàng méi zhǐ kě
Vain hope for something unattainable
学无止境
xué wú zhǐ jìng
Knowledge is infinite
饮鸠止渴
yǐn jiū zhǐ kě
To take reckless action regardless of the consequences
Sparrow game
Mahjong or Sparrow game has its origins in China, but exactly when is still open to debate. It is a game of chance where you build up sets of related tiles (circles, characters and bamboos 'suits') a bit like card games like rummy, but there are also special tiles and the scoring is fiendishly complicated. A standard set has 144 tiles. It became a great worldwide craze after the 1920s. The four flower tiles Plum, Orchid, Bamboo and Chrysanthemum represent the four seasons (winter, spring, summer and autumn).
Read More
Superpower China
There is worldwide speculation on where the future will take China. For thousands of years China was by any measure the top nation on Earth, and so it seems natural that after 150 years of turmoil China will become the leading country again. In this page we speculate on what this might mean to China and the rest of the world.
Read More

Chinasage is a new web resource, started in 2012, pages will be added, enhanced and re-formatted regularly. Please check back soon for updated information about China.
We would be most grateful if you can help improve this page. Please visit our (secure) contact page to leave any comment. Thanks.
Citation information: Chinasage, 'Chinese character zhǐ 止 to stop', , Web, http://www.chinasage.info/chars/fch_zhi_to_stop.htm.
Copyright © Chinasage 2012 to 2018