Chinese idioms about the pitfalls of cunning plans and duplicity
The advantages and disadvantages of using clever tactics to achieve your ends.
old crafty great cunning
To be very crafty and cunning
To be tricky, cunning, crafty. Well versed in the ways of the world
All's fair in love and war
evil person first tell complaint
The offender is the first to complain
The perpetrator diverts attention by being the first to complain
To cry 'wolf'
move tiger leave mountain
Lure a tiger down from its mountain. This is one of the age old strategms of war.
Lure an enemy out of its home territory in order to attack it
chicken cry dog steal
Able to crow like a cockerel and steal like a dog
A person with a range of useful tricks. The story is of someone back in the
Warring States period
who helped a prince out of difficulty by imitating a dog to distract prison guards and to crow like a cockerel to trick them into thinking it was already morning
Every trick in the book
cause influence favorable guide
Helping things along
To encourage something along to its natural fulfillment.
goat character tiger skin
A goat in a tiger?s skin
Someone not living up to outward appearance. Looking fierce but actually timid.
All that glisters is not gold
secret pass through Chencang
Secretly cross at the Chencang Road
A feigned maneuver designed to outwit. After the fall of the
Qin dynasty
Liu Bei sent out troops to repair a plank road presumably to mount an attack, but he actually moved his troops across the Wei River at Chencang and so surprised his enemy.
weapon not detest cheat
In conflict cheating is permitted
In warfare nothing is too dishonest
All is fair in love and war
fox fake tiger power
A trick of cunning to exaggerate self importance
A fox will pretend to have the power of a tiger. The story is that a fox followed a tiger in a parade. The animals panicked and the fox claimed that this was because they were frightened of the fox not the tiger. It goes back to the Warring States Period.
first set about act strong
Striking first to demonstrate strength
To gain the upper hand by striking first
Strike while the iron is hot
tree monkey but wear hat
A hat-wearing macaque
A worthless person hiding behind imposing looks. Trying to impress too hard
All that glitters is not gold
kill wife seek general
Killing your wife to become a general
Ruthless action to further one's ambition. The story is of Wu Qi who served the state of Lu. His wife originally came from the enemy state of Qi; seeing this as an obstacle to his ambition to become a general, he killed his wife. He got the promotion so it is about ruthless but effective action.
Sell your grandmother
crafty hare three burrows
A crafty rabbit has three burrows
To succeed you must must have alternative options, in particular several ways of escape from danger
There's more than one way to skin a cat
mouth trustworthy stomach sword
Honeyed mouth but harboring dagger
Machiavellian. Using kind words to conceal malice
Smile of the crocodile
map exhausted dagger appear
When the map is unrolled the dagger is revealed
A secret plan is revealed, a conspiracy unmasked. The story is of an assassination attempt on the King of Qin back in the Warring States Period. Pretending to cede territory Prince Dan concealed a dagger in a scrolled up map.
The secret is out
thief shout 'stop thief'
A thief cries 'Stop thief!'
Diverting attention to cover misdoing
Crying 'wolf'
look at left and right sides but then talk him
Looking both ways and changing the subject
Avoiding talking about something; taking a long digression
hare die fox sorrow
A fox mourns the death of a rabbit
Feigning concern to conceal true feeling
To weep crocodile tears
smile inside conceal knife
A dagger concealed in a smile
Malice concealed by apparent friendliness. There is a story of Li Yifu who was a great flatterer of the early Tang dynasty. He was always smiles but sought to blackmail and deceive. Eventually Emperor Gaozong discovered his duplicity and he was banished.
Don't judge a book by its cover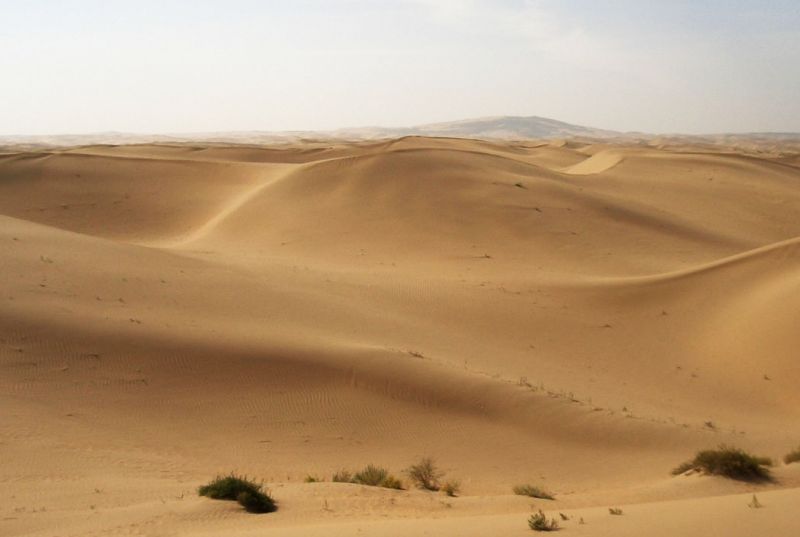 Gobi Desert stretches into Inner Mongolia. August 2008
Image by
Fir0002

➚
available under a
Creative Commons license

➚
bright know incident ask
Already knowing the answer
To ask a question when already knowing the answer
raise lower their hand
To raise and lower the hand
A conspiracy is at work. A deft gesture signaling important information. The story is that back in the Spring and Autumn period two soldiers both claimed to have captured a prince and demanded their reward. When Bo Zhouli arbitrated he used a hand gesture to signal who he wished to receive the money.
arrow mouth deny
To shoot arrows from the mouth
To flatly deny the truth
steal girder change post
Steal beams replaced with wooden poles
To carry out a crafty deception
brocade purse wonderful plan
Excellent plans hidden in a brocade bag
To have wise plans in reserve. The story is that the brilliant strategist Zhuge Liang sent plans for a military campaign concealed in a brocade bag.
turn over cloud overturn rain
Conjuring clouds with one hand and rain with the other
Trying too hard to impress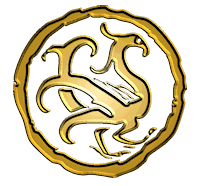 Our proverbs come with full information. The modern Chinese
characters
are given first with links that give information on the character. If the phrase uses
traditional characters
these are shown in brackets and gray text. As proverbs are so old you will often see them written in the old form. The characters are followed by the proverb (Chengyu) in
pinyin
. Next, there is a crude character by character transliteration into English, followed by a more accurate English translation. If this is a Chinese proverb alluding to history the meaning may still not be clear in English, so the general meaning follows. Finally some proverbs have fairly direct English equivalents, if so the English proverb is included at the end.
Our translations are in need of improvement, so please let us know your ideas. For background on the types and history of proverbs please
see our guide
.
Copyright © Chinasage 2012 to 2019
Please wait...
Downloading information about character