Chinese idioms about luck and good fortune
A celebration of luck and good fortune in Chinese sayings. Some wish for the luck to arrive, others show gratitude for the marvellous state of affairs.
now palace have wine, now palace drunk
When have some wine, all will get drunk
Take advantage of good fortune while it is around
freedom unrestrained
Unrestricted freedom
To be carefree, peaceful and relaxed
fly yellow gallop extend
To fly in the sky like the legendary horse Fei Huang (flying yellow)
A meteoric rise to success and honour
heart broad spirit joy, matter matter obey profit
Heart joyful, work profitable
Feeling happy and relaxed
smile a smile, 10 year less
Just one smile makes you ten years younger
Happiness is the best cosmetic
heaven make someone close
Heaven made intimacy
Blissful affection
Marriage made in heaven
Luoyang paper expensive
To make paper expensive in Luoyang
The story is of a book that initially failed to find any interest, when he came to the then capital of Luoyang several respected scholars found it exceptional. The book then became so popular that printers exhausted the supply of paper to print copies of it. It therefore is used to describe a book that is destined to be a sensation.
Become all the rage
universal heaven together celebrate
Everyone in celebration
The whole nation is rejoicing at some happy event
once see deep affection
Upon first seeing fall madly in love
To fall in love at first sight
good person; good deeds
Good personality good deeds
Pleasant person who behaves well
A good man is hard to find
after raise him refined
Promising young talent
Said of someone showing talent at an early age.
He/she will go far
peace reside happy enterprise
Live and work in peace and contentment
Wishing you well in a new home
heat pot up of ants
As active as ants on a hot pan
In a state of feverish activity and excitement
horse arrive accomplish merit
Horse win easy victory
Gain immediate victory
feeling sweet fine wish
Delighted and helpful
Delighted to be able to help
ten complete ten beautiful
Completely whole and beautiful
Perfection; faultless
frontier old man lose horse, peace know wrong blessing
When the old man from the frontier lost his horse; how could he have known that it would not be fortuitous?
The
story

➚
is that a man lost his horse but actually it went over the Great Wall and brought back several horses with it. A setback may turn out to be a blessing in disguise.
Every cloud has a silver lining
drink water think source
When drinking water remember the origin
Do not forget the source of your good fortune (particularly your parents)
Count your blessings
rain past heaven bright
The rain has gone, the sky brightens
Things are improving. Hope for the future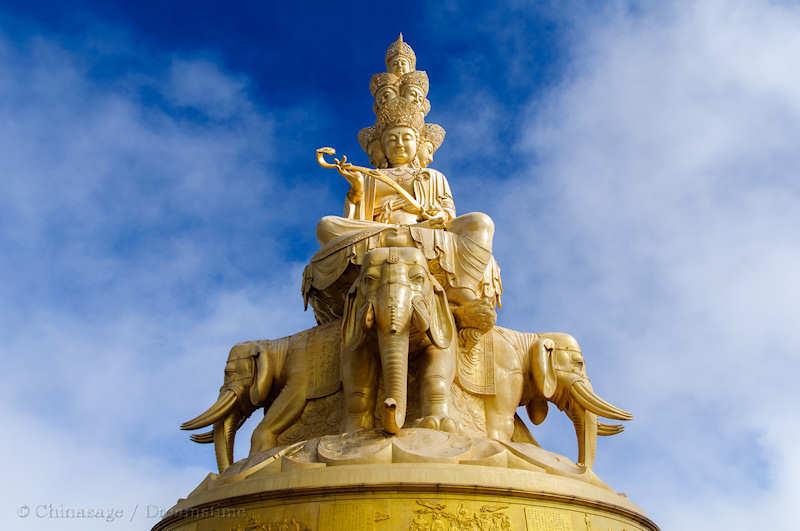 Golden palace at the top of Mount Emei, Sichaun with the world's highest status of Pǔxián Púsà
普

賢菩薩
.
step step tall ascend
Step by step promotion
Congratulation on promotion or a new job
nine ox two tiger 's strength
The strength of nine bulls and two tigers
Tremendously strong
love house reach crow
Strong love that encompasses all, including the crow sitting on the roof
In love with everything in the world
Love is blind
slow opening flower did not certainly not smell
A late-blooming flower is not necessarily lacking in fragrance
It's never too late to try something new
harmony face contended colour
Having a happy face looking contented
Amiable appearance
world foreign peach source
The land of peach blossoms
A mythical land of peace and harmony. The story is of a hidden land that a fisherman found while trying to escape turmoil and war in the Qin dynasty. Try as he might he never found the land again.
Land of milk and honey
dragon fly phoenix dance
A dragon's flight and a phoenix's dance - very powerful and invigorating.
Flamboyant. Lively and vigorous
heart flower in full bloom
The flower of the heart in full bloom
Full flowering of joy
arrive day region long
Long time ahead
There is adequate time to achieve your desires
All things come to those who wait
bitter exhuast sweet arrive
Bitterness over, happiness arrives. At the end of suffering comes relief
After troubles comes happiness
The darkest hour is just before the dawn
good fortune beautiful hall emperor
Prosperous and beautiful
To have the best of good fortune
cloud vanish mist disperse
Cloud and mists disperse
All becomes clear again. Troubles are over
lotus root break silken thread links
Although the lotus root may be cut, its fibered threads are still connected
Friendship survives adversity
actual direction nothing previous
No obstacle in any direction
To be able to conquer anyone on all fronts. Invincible against all opponents. An irresistible force
one attend honor
Honored from a single glance
Honored by a visit of someone distinguished who is showing an interest. A passport to getting on in social circles. The story is that a expert of horse was persuaded to give a mere glance at a horse that was for sale and by so doing its price rose enormously in value.
single fox's underfur
The underfur of a fox
The underfur of a fox is so soft that is highly valued. Something of great value to someone
ear eye one new
New sights and sounds
A change of place, everything fresh and new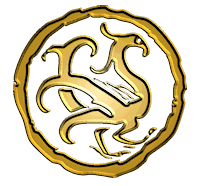 Our proverbs come with full information. The modern Chinese
characters
are given first with links that give information on the character. If the phrase uses
traditional characters
these are shown in brackets and gray text. As proverbs are so old you will often see them written in the old form. The characters are followed by the proverb (Chengyu) in
pinyin
. Next, there is a crude character by character transliteration into English, followed by a more accurate English translation. If this is a Chinese proverb alluding to history the meaning may still not be clear in English, so the general meaning follows. Finally some proverbs have fairly direct English equivalents, if so the English proverb is included at the end.
Our translations are in need of improvement, so please let us know your ideas. For background on the types and history of proverbs please
see our guide
.
Copyright © Chinasage 2012 to 2019
Please wait...
Downloading information about character