Chinese Events one month at a glance
The prized job in dynastic China was as an Imperial official. As well as prosperity and a life of relative leisure an official received respect from the community. As anyone who passed the Imperial examinations could hope for such an appointment the posts were potentially open to all men.
Tue 11
th
Sep
While I normally try to give the positive news about China on this blog and on this web site I feel it necessary to mention the sensitive subject of Xinjiang.
The situation of Xinjiang is much more sensitive to the Chinese government than Tibet. Xinjiang has always been on the frontier of Central Asia and at times like Tibet has been independent of China. As well as an important trade route it is Xinjiang's oil and mineral resources that are of great financial interest.
The Human Rights Watch ➚ (HRW) has studied the plight of the majority Muslims in Xinjiang and have come to a damning assessment. Many policies are making the worship of Islam near impossible for Muslims.
Many Muslims have been detained for long periods without charge on the flimsiest of suspicions that they are somehow 'involved in terrorism'. Huge 'correction' camps of up to one million people have been built to 're-educate' the ethnic Muslim population. While it is true that there have been a few terrorist attacks ➚ by Xinjiang separatists the Chinese government should behave on the basis of evidence rather than fueling further ethnic tension.
Perhaps the long arm of history is partly to blame, the Panthay Rebellion ➚ (1856-73) cost about 2 million lives. But to modern eyes the widespread suppression of religious practices (shaving beards, clothing, learning local language, Muslim names) is unpleasant to see in an aspiring world superpower.
Muslim worshipers
kneel on prayer carpets outside of Id Kah Mosque at the end of Ramadan. Kashgar,
Xinjiang
Copyright © Dreamstime see
image license
Read full story...
Read all our
news stories...
The iconic vision of the
Great Wall
snaking its way up mountainsides is known the world over. The true story behind the wall is more interesting than the widespread myths. Although it stands for China's enterprise and indomitable spirit, it in the end proved a monumental waste of human endeavor.
Use the arrow buttons at the top to change the month or year displayed. Click on a day to display events and extra information about the event.
For a full year's view please see our 2018 and 2019 calendars.
To see how the Chinese lunar calendar works please see our Chinese calendar page.
We have a calendar for the whole year 2018 that you can download and print click here.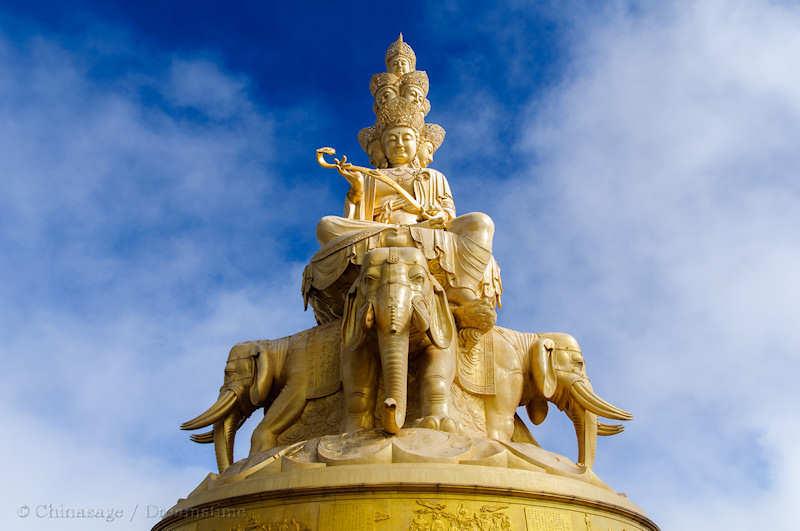 Golden palace at the top of Mount Emei, Sichaun with the world's highest status of
Pǔxián Púsà
普

賢菩薩
.

Last or
Next month
Festival on this day
Event on this day
Weekend
Today
Selected day
Public holiday

Chinasage is a new web resource, pages will be added, enhanced and re-formatted regularly. We would be most grateful if you can help improve this page. Please visit our (secure) contact page to leave any comment. Thanks.
Citation information for this page : Chinasage, 'Calendar of Chinese events and Chinese festivals for each month', last updated 18 Oct 2017, Web, http://www.chinasage.info/cal/calendar.htm.
Copyright © Chinasage 2012 to 2018
Please wait...
Downloading information about character