见

jiàn see; meet

Made up of [

冂

jiōng

covering box radical 13,

儿

ér

legs radical 10]

Alternative

traditional form

of character:

見
Note
Combines an eye and a person, now uses a simplified form
Number of strokes
4
Related characters
Using

冂

jiōng
:
丽

lì (beautiful)
尚

shàng (still)
冈

gāng (ridge)
Using

儿

ér
:
先

xiān (first)
儿

ér (child)
元

yuán (primary)
光

guāng (light)
克

kè (to be able to)
兔

tù (rabbit)
兄

xiōng (elder brother)
真

zhēn (really)
免

miǎn (to escape)
Sounds same
健

jiàn (healthy)
渐
jiàn
建

jiàn (to establish)
间

jiàn (gap)
箭

jiàn (arrow)
Different tone
戋

jiān (narrow)
艰

jiān (difficult)
剪

jiǎn (scissors)
Pronunciation
Sound file kindly provided by
shtooka.net

➚
under a Creative Commons Attribution Share Alike License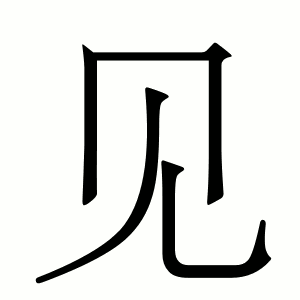 Stroke order for character 见, kindly provided under
Wikimedia creative commons license

➚
Proverbs
百闻不如一见
bǎi wén bù rú yí jiàn
Delighted to meet you in person at last
患难见真情
huàn nàn jiàn zhēn qíng
Only in a crisis do you know who your friends really are
见义勇为
jiàn yì yǒng wéi
To see what is right and act with courage
开门见山
kāi mén jiàn shān
To come straight to the point. Avoid procrastination
少见多怪
shaǒ jiàn duō guài
Unsettled by a new environment
司空见惯
sī kōng jiàn guàn
An everyday occurrence; nothing out of the ordinary
Phrases
再见
zài jiàn
goodbye
明天见
míng tiān jiàn
See you tomorrow
Thu 22
nd
Mar
China is well aware of the huge problems of waste disposal. Now that rural communities have more income there is far more plastic and other toxic waste that would normally have to go to landfill. The landfill is often not properly contained and escapes to poison the groundwater. Now Han Zhaobin of Hunan province believes he has come up with a solution. A small scale five ton incinerator is designed to leave very little toxic residue and a series of washing stages will remove toxic components from the smoke. A community level waste disposal unit will save transporting it to a large county level facility.
The Central government have recently announced an initiative to bring all rural communities out of poverty by 2050. Dealing with increased waste will be a necessary step in improving the standard of living of many rural communities.
Read full story...
Read all our
news stories...
For over two thousand years the Chinese Emperor was served by a large number of Imperial servants who had castrated as young boys. With no possibility of having children themselves they were seen as having more loyalty to the Emperor than the Emperor's often scheming family. Some eunuchs became fabulously rich as a result of their total control of access to the Emperor.

Chinasage is a new web resource, started in 2012, pages will be added, enhanced and re-formatted regularly. Please check back soon for updated information about China.
We would be most grateful if you can help improve this page. Please visit our (secure) contact page to leave any comment. Thanks.
Citation information: Chinasage, 'Chinese character jiàn 见 see', , Web, http://www.chinasage.info/chars/fch_jian_see.htm.
Please wait...
Downloading information about character
Copyright © Chinasage 2012 to 2018
Please wait...
Downloading information about character